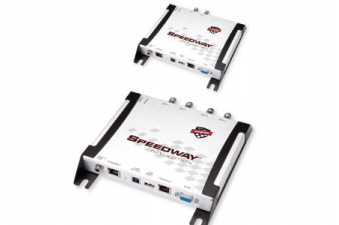 Speedway® Revolution UHF RFID Reader
Bảo hành 24 tháng
Lắp đặt: miễn phí trong nội thành: Q1, Q2, Q3,...
Chi tiết tham khảo tại đây: Chính sách lắp đặt và bảo hành
Liên hệ trực tiếp: Mr Đoàn
Phone: 0908867674
Khuyến mãi:
Miễn phí lắp đặt và 1 năm sử dụng phần mềm miễn phí
Application environments are dynamic. Everything from RF interference, tag quantity, and ambient RF noise to building materials near an RFID installation affect system performance. Most users configure their readers for worst case scenarios, often compromising best performance in the process.
With its innovative Autopilot features, Impinj's Speedway® Revolution UHF RFID reader delivers peak performance—all day, every day.
Impinj's Speedway® Revolution fixed RFID reader with Autopilot senses its environment, automatically configuring and adapting to new and changing conditions. Available in two- (R220) and four-port (R420) versions.
Impinj Speedway® Revolution UHF RFID Readers At A Glance


Speedway R420
Speedway R220

Air Interface Protocol

EPCglobal UHF Class 1 Gen 2 / ISO 18000-6C

Performance

Includes all possible performance configurations and functionality to deliver peak performance for even the most challenging of applications
Intended for less demanding applications. Does not support the maximum throughput available on R420 including Max Throughput FM0, Hybrid, Max Miller and Autoset Single Reader

Supported Regions and Geographies

US, Canada, and other regions following US FCC Part 15 regulations
Europe and other regions following ETSI EN 302 208 v1.2.1 without LBT regulations
Australia, Brazil, China, India, Japan, Korea, New Zealand, Singapore, South Africa, Taiwan, Uruguay, Indonesia, UAE, Malaysia, Thailand

US, Canada, and other regions following US FCC Part 15 regulations
Europe and other regions following ETSI EN 302 208 v1.2.1 without LBT regulations
Australia, China, India, New Zealand, South Africa, Taiwan, Uruguay, Brazil, Malaysia, Thailand

Antennas

4 high performance, monostatic antenna ports optimized for Impinj reader antennas (RP TNC)
2 high performance, monostatic antenna ports optimized for Impinj reader antennas (RP TNC)

Transmit Power

+10.0 to +30.0 dBm (PoE)
+10.0 to +32.5 dBm1 (external universal power supply)

Note 1: Speedway Revolution requires professional installation, may only be operated with Impinj-approved antennas, and can radiate no more than 36 dBm EIRP per FCC Part 15.247 regulations. Other regulatory regions have similar restrictions. Consult the Installation and Operations Guide to learn more.

Max Receive Sensitivity

-82 dBm

Max Return Loss

10 dB

Application Interface

EPCglobal Low Level Reader Protocol (LLRP) v1.0.1

Network Connectivity

10/100BASE-T auto-negotiate (full/half) with auto-sensing MDI/MDX for auto-crossover (RJ-45)

Cellular Connectivity*

Sierra Wireless AirLink PinPoint XT (CDMA or GSM connectivity with GPS data)
Sierra Wireless AirLink Raven XT (CDMA or GSM connectivity)

(* Available through Impinj-authorized partners)

IP Address Configuration

DHCP, Static, or Link local Addressing (LLA) with Multicast DNS (mDNS)

Time Sychronization

Network Time Protocol (NTP)

Management Interfaces

Impinj Web Management UI
Impinj RShell Management Console using serial management console port, telnet or SSH
SNMPv2 MIBII
EPCglobal Reader Management v1.0.1
Syslog

Reliable Firmware Upgrade

Dual image partitions enable smooth transition to new firmware while the reader is still operating
Scalable upgrade mechanism enabling simultaneous scheduled upgrades of multiple reader
USB Flash Drive
Impinj Web Management UI


Management Console

RS-232 using a standard Cisco-style management Cable (DB-9 to RJ-45)
Baud rate: 115200; Data: 8 bit; Parity: none; Stop: 1 bit; Flow control: none

USB

USB 1.1 Device (Type B) and Host (Type A) ports
USB Virtual COM Serial Port and USB drive support for embedded applications

GPIO

4 inputs, optically isolated, 3–30V
4 outputs, optically isolated, 0– 30V, non-isolated 5V, 100 mA supply (DB-15)

Power Sources

Power over Ethernet (PoE) IEEE 802.3af
+24 VDC @ 800 mA via external universal power supply with locking connector—sold separately

Power Consumption

| | | | |
| --- | --- | --- | --- |
| | Idle | Typical | LDC |
| PoE at +30 dBm | 3 W | 11.5 W | 6 W |
| Power Supply at +30 dBm | 3 W | 13.5 W | 6 W |
| Power Supply at +32.52 dBm | 3 W | 15 W | 6 W |




Note 2: Maximum is 31.5 dBm for ETSI region readers

Environmental Sealing

IEC IP52

Shock and Vibration

Mil-Std-810G Certified

Operating Temperature

-20 ºC to +50 ºC

Humidity

5% to 95%, non-condensing

Dimensions (H x W x D)

7.5 x 6.9 x 1.2 in (19 x 17.5 x 3 cm)

Weight

1.5 lbs (0.68kg)




RoHS

Compliant to European Union directive 2002/95/EC
This product is covered by one or more of the following U.S. patents. Other patents pending. 7283037, 7026935, 7049964, 7501953, 7030786, 7246751, 7245213, 7408466, 7187290, 7304579, 7510117, 7107022, 7419096, 7382257, 7405660, 7436308, 7417548, 7391329, 7391329, 7592897, 7589618, 7633376, 7696882, 7830262